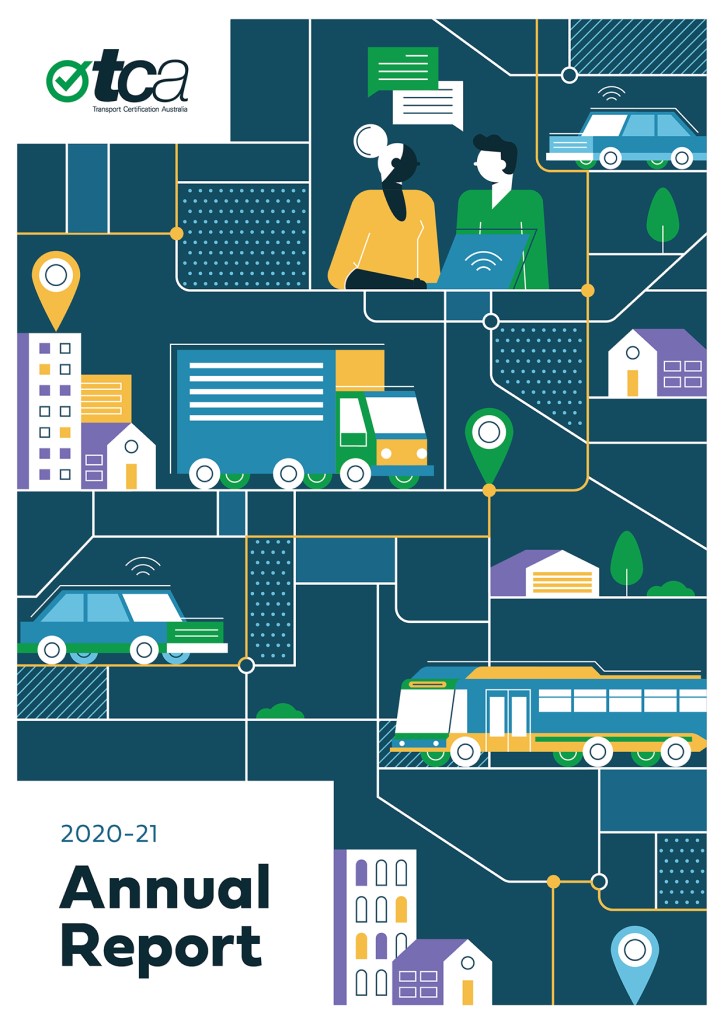 Our annual report provides a detailed review of our strategic focus as well as projects completed and progressed during the year.
At a glance, the following are our key successes and headlines for 2020-21:
The total number of vehicle enrolments in the Intelligent Access Program (IAP), Telematics Monitoring Application (TMA) and Road Infrastructure Management (RIM) applications was 7,913, an increase of 22.9%.
TCA completed the operational deployment of different assurance levels through the National Telematics Framework (NTF).
There was a significant expansion in the use of NTF applications and schemes by jurisdictions across all levels of assurance (LoA).
There was a notable increase in the number of technology providers and transport operators seeking TCA recognition and participation in the NTF led to:

An increase in the number of providers participating in the NTF
Type-approval of a telematics devices at LoA 2 specifications for the first time
Type-approval of Smart OBM systems to support new regulatory conditions
The first approvals involving transport operator developed systems, including type-approval of a Smart OBM system and the certification of telematics system.

TCA significantly expanded the Telematics Analytics Portal (TAP) end-user access to jurisdictions and local governments.
Table of Contents
Message from the Chairperson


I am pleased to present TCA's Annual Report for the 2020-21 financial year.

Since its establishment in 2005, TCA has evolved to become an authoritative national entity on digital transport technologies and data. Through its administration of the National Telematics Framework (NTF), TCA continues to collaborate with transport authorities and industry stakeholders to enable and support the realisation of positive transport and societal outcomes… Gary Swain, Chairperson
Message from the Executive General Manager


It has once again been a successful year for TCA. Our work program continues to evolve to meet changing service demands from transport authorities and industry stakeholders. TCA saw the development and adoption of new contemporary technologies and processes. We contributed and responded effectively to policy changes and reform initiatives. And throughout all of this, our staff rose to the challenge and transformed our ways of working in response to the COVID-19 pandemic, with a continual focus on enabling positive outcomes from Australia's road transport system… Stuart Ballingall, Executive General Manager
About Us
Transport Certification Australia (TCA) is a national organisation that provides assurance services relating to transport technologies and data to enable improved public purpose outcomes from road transport…
Key Metrics and Statistics
Currently available applications, type-approved telematics devices and on-board mass (OBM) systems enabled by the National Telematics Framework…
NTF Achievements
The National Telematics Framework continued to grow and evolve during 2020-21 in response to the emerging needs of authorities, providers and providers.
TCA Staff
At TCA, our people are integral to our success. Our commitment to providing a culture of performance, development, safety and fairness during the year enable our people to operate at their best and our organisation to deliver on our strategic objectives…
Committees and Industry Participation
The consultants we engaged with and committees we were involved in…
Governance
Our Board and company secretary…
Special Purpose Financial Report
Directors' report, auditors' independence declaration, statements, etc…
Download Publication