TCA contributes to National Freight Data Hub prototype
30 June 2021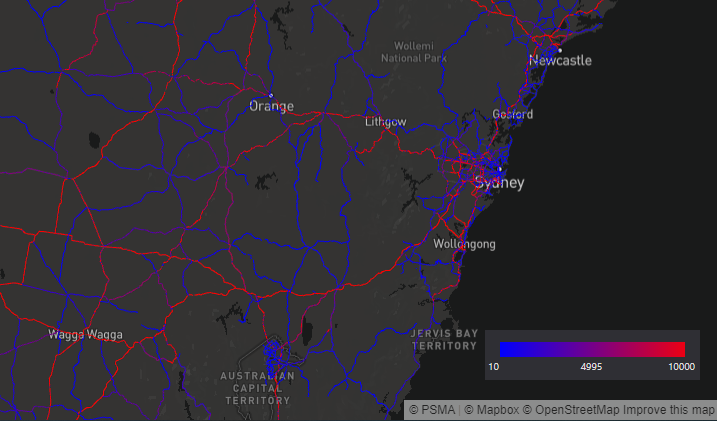 Transport Certification Australia (TCA) has released details on how it contributed to the heavy vehicle movement insights provided through the National Freight Data Hub prototype website.
Publicly released on 30 May 2021 in an Australian Government announcement, the National Freight Data Hub prototype website provides a trusted source of strategic freight data for industry, government and other technology users to help improve the efficiency, safety and resilience of the freight sector.
The prototype website features interactive truck telematics maps that provide insights into travel patterns, congestion and the use of rest areas by heavy vehicles.
These visualisations draw substantially from data derived from the National Telematics Framework (NTF) – a nationally agreed digital platform linking technology providers with technology users.
Leveraging the NTF's data protection mechanisms and privacy-by-design principles, TCA provided the National Freight Data Hub with aggregated, de-identified data extracts from applications of the NTF.
Heavy vehicle operators use NTF applications that include the Intelligent Access Program (IAP), the Telematics Monitoring Application (TMA) and the Road Infrastructure Management (RIM) application.
Standardised approaches to data collection and transfer – which underpin all NTF applications – offered the National Freight Data Hub an efficient way to access data from 6,500 vehicles operating across the country. The data is from transport operators who use Application Service Providers operating in the NTF.
Standardised data consent arrangements that TCA has in place with transport operators overcame challenges routinely associated in obtaining data from heavy vehicle fleets.
Matt Stockwell, National Freight Data Hub Assistant Director, said:
"The National Freight Data Hub prototype website showcases the availability of aggregated and de-identified telematics data in cutting-edge geo-spatial interactive insights. Working with TCA, the Hub team has visualised insights on congestion, rest areas and truck counts which enable industry and governments to get a national picture of freight movements.
"The data helps answer our enduring freight questions such as where and when freight is moving on our roads and how we can improve the efficiency and safety of the freight task."
With more vehicles enrolling in the NTF, and driven by the use of new productivity and safety reforms in use by road managers and regulators, future versions of the interactive maps on the Hub will benefit from more data from a diverse range of vehicles.
Want to know more? Contact us by phone on (03) 8601 4600 or email [email protected].