TCA type-approves Smart OBM for McColl's
23 June 2021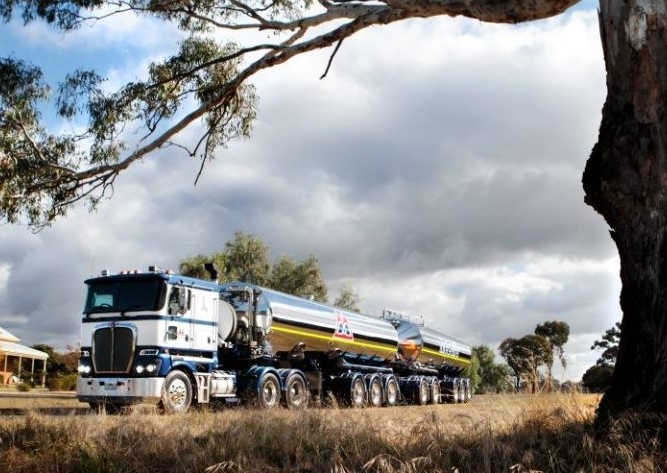 Transport Certification Australia has type-approved the McColl's Integrated Mass Management System (MIMMS) as a Smart On-Board Mass (OBM) system.
McColl's Transport Operations Pty Ltd is Australia's largest independent bulk liquid carrier of milk, food and bulk chemicals.
Developed exclusively for use by McColl's, MIMMS uses an innovative combination of technologies, systems and processes to meet the performance requirements of the OBM System Functional and Technical Specification.
This achievement demonstrates how the National Telematics Framework provides transport operators with the opportunity to have their own technologies and systems recognised by TCA.
McColl's CEO Simon Thornton said, "We are very pleased to have received TCA approval for MIMMS. This comes after two years of hard work for our team to deliver this new capability to us. Safety is at the top of our values list and this system will be another asset to help us to keep our drivers and other road users safe.
"MIMMs will allow us to be sure that we are always operating within the gross vehicle mass limits for the roads that we are driving on. Our federal, state and local governments make big investments to provide Australians with first class road infrastructure."
Mr Thornton added: "Managing and reporting our mass in real time is part of our commitment to keeping that infrastructure in top working order. We have a particular interest in regional and rural roads as we collect milk from farms and the infrastructure on these smaller roads is particularly vulnerable to over-weight vehicles.
"Importantly, McColl's milk trucks can now leverage the new High Productivity Freight Vehicle (HPFV) arrangements in Victoria that broaden access, deliver easier first-and-last-kilometre approval and reduce the need for permits, which provides greater protection for Victoria's roads and bridges."
Please refer to the recent ministerial announcement on the expansion to HPFV arrangements.
Details of the McColl's Smart OBM system type-approved by TCA are listed below:
Transport Operator
OBM system name
Category
McColl's Transport Operations Pty Ltd
McColl's Integrated Mass Management System (MIMMS)
Smart OBM system
(Category B)
Smart OBM systems are digitally connected on-board weighing systems that enable new productivity and safety initiatives using applications of the National Telematics Framework (NTF).
All Smart OBM systems are type-approved by TCA. Type-approval of OBM systems involves the assessment of OBM system 'types' against the performance-based requirements contained in the OBM System Functional and Technical Specification.
Find out more about Smart OBM systems at tca.gov.au/smart-obm.
See also our one-pager fact sheet with differences between categories of OBM systems – visit tca.gov.au/obm-factsheet.
Interested in offering OBM systems through the National Telematics Framework? Talk to us, or visit tca.gov.au/smart-obm.
Stay connected – subscribe to receive updates from TCA.